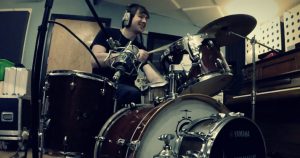 Stuart is an experienced professional drummer based in Fleet Hampshire.  He has played for Our Lost Infantry, Jumpstart, Dr Pop, The Jump Pilots and Kamla as well as several function bands. Stuart has also worked as a studio musician recording albums with Richard Lee, Paul Slack, Orison and many others. He has a passion for performing live music that started at an early age and is always looking for new musical challenges.  Stuart is also a well-regarded teacher and currently teaches at Bohunt School, Edgeborough School and Lord Wandsworth College.
Interview
When did you start playing the drums?
I started off in music playing the piano and trumpet then later snare drum in a local marching band.  I come from a musical family and my Mum always encouraged me to play and sing at home. When I was 12 I started drum kit lessons at school and I immediately knew it was the instrument for me. I continued having lessons at school and played in the school orchestra, concert band, jazz band and samba band and took part in music tours and festivals all over Europe. I loved performing and wanted to take any opportunity to learn something new. Before I left school I passed my Grade 8 Guildhall exam.
What did you do after High School?
When I was 17 I decided I wanted to take the plunge and try and become a professional drummer. I went to study at the ACM in Guildford and was there for 3 years and achieved a Hdip and BA Hons Degree. The real benefit from my time at the ACM was a big improvement in my playing thanks to the excellent tutors such as Pete Riley, Mike Sturgis and Stu Roberts and meeting and playing with many like-minded musicians. While I was at ACM I played in several original bands including  Jumpstart, Kamla, The Jump Pilots, Dr Pop and Orison.
How did you make a living as a musician after ACM?
Once I left college I was already teaching a number of students privately in Guildford.  I started working playing in some wedding and function bands including Beats Working, Save the Last Dance and the Winklepickers who I still play with regularly. I also started playing for the Duffys playing Irish, country and bluegrass with fiddle and accordion which was always great fun.  I  worked with local musicians who needs a drummer for live and recording projects. I recorded albums with Richard Lee and Paul Slack and played live with Jonathan Thompson and played in musical theatre productions in the pit.
Have you done any musical theatre work?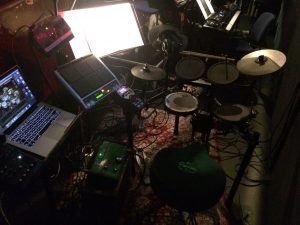 I'm a big fan of musical theatre and I've done a number of productions for amateur and youth groups including a run of Fame in Germany, several productions for Stagecoach and many school performances. I often get asked to use electric drums for shows and trigger sampling software to keep the drums sounding full and live but at a controlled volume for small venues.
When did you play with our Lost Infantry?
Thom Ashworth was both the singer and bassist in my function band and the singer and guitarist for Our Lost Infantry. He asked me in 2014 If I would join the band after original drummer Mike Parkin left. I joined the band and we recorded Interregnum and played some great shows. It has probably been one of my favorite musical experiences and I was incredibly glad to be a part of it.
Why did you start teaching?
Whilst I was at ACM a guitarist friend of mine James asked if I could teach him how to play the drums. I really enjoyed preparing and delivering lessons to him and he gave me guidance on how to improve my lessons. I then started teaching privately from my house in Guildford. Just like when I started playing the drums I loved it immediately. It was incredible to see what students could achieve when they applied themselves. I then started teaching in schools including Epsom and Ewell High School, Handcross Park and Bohunt. I currently offer private lessons at my home studio in Church Crookham Fleet. Please see my Tuition page for more details.
What are you doing at the moment?
I'm a busy teacher midweek teaching in schools and privately I'm also working on a series of video lessons that will be out later in the year. I play frequently with Beats Working, The Winklepickers, Save the Last Dance, The Standards and the Velcro Turtles.
Who are your Top 5 Drummers:
Phil Collins, Vinnie Colaiuta, Benny Greb, Steve Jordan, Tony Williams
What Equipment do you use:
Gretsch and Tama Drums, Meinl Byzance Cymbals, Vic Firth Sticks, DW Hardware, Roland Electronics